Slick, big-city sports agent Rob Decker has it all. But on his latest mission to sign a high school baseball superstar, Rob becomes stranded in a small town where the simplicity of life—and the faith of the people—stands in stark contrast to his own fast-paced, win-at-all-costs mindset. Torn between these two worlds, will Rob have the courage to let faith transform his life? Sometimes the next big thing isn't what you expect.
Starring Ryan Scharoun and Ashley Anderson McCarthy,
RING THE BELL features Christian music artists Casting Crowns, Steven Curtis Chapman, and Matthew West, along with baseball legends Rick Sutcliffe, John Kruk, and Ben Zobrist.
This heartwarming story of redemption will entertain and inspire the whole family.
Watch "Ring The Bell" @ https://www.youtube.com/playlist?list=PL5JsnqVM9Vd5kArehizy1W36MZE7NON53
For what will it profit a man if he gains the whole world, and loses his own soul?  Or what will a man give in exchange for his soul? Mark 8:36,37
DVD "Ring The Bell" is available for lending. Check out details @ https://cmedialending.in/example-to-take-a-video-made-in-india/
'Genocide is Happening Now' | Christian World News – September 29, 2023. The end of an Armenian Republic in Azerbaijan, refugees finding refuge in North Dakota, and using the latest technology to connect people of faith @ https://www.youtube.com/playlist?list=PL5JsnqVM9Vd48_BmhIGWjRDjUvfVJIdrE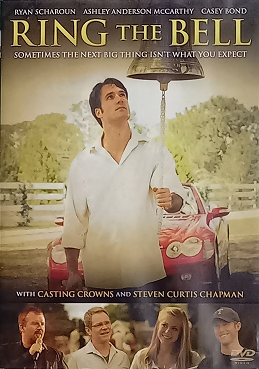 Video catalog is available @ https://cmedialending.in/videos/