by Ruth Myers & Warren Myers
Moving God's Mighty Hand
Prayer, A Way of Life
It takes but a few weeks to form a habit. Readers of the rerelease of 31 Days of Prayer can form a prayer habit that lasts a lifetime with this beautiful and practical devotional. Authors Ruth and Warren Myers show readers how to grow in prayer, even if the amount of time set aside seems small at first. The book guides believers through prayer for thirty-one days, allowing for personalized prayer that reflects individual circumstances and areas for spiritual growth. 31 Days of Prayer leads readers step by step into praying about what is close to their hearts and God's.
You can request "31 Days Of Prayer" via SMS (99622-81426) or email (cmedialending@gmail.com)
To know how you can get this book click here.
Now it came to pass, as He was praying in a certain place, when He ceased, that one of His disciples said to Him, "Lord, teach us to pray, as John also taught his disciples." Luke 11:1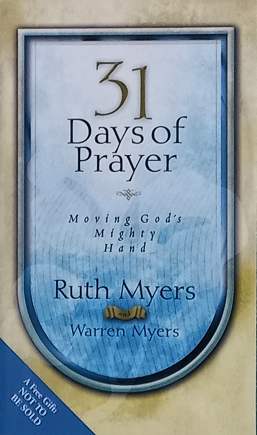 Complete listing of books available @ Books Catalog